We arrange transfers in Norway on superior class vehicles such as Mercedes S, Tesla X, Volvo XS90, Mercedes V class or a limousine or vintage car with private driver for transfers or special occasions such as a wedding or anniversary. For VIP transport, the drivers are well dressed and bottled water is included. Our driver can meet you close to your landed plane in Bergen airport if arriving by private flight. We guarantee seamless, efficient and luxury transport services for both tourists and business travellers.
Our vehicles in Bergen
Tesla X
This spacious electro mobile has 7 seats, two of which are usually folded down which gives the luggage room capacity for 2-3 suitcases and 2 small bags. There is also a luggage room in the front for 2 middle sized bags. We recommend it for most comfort for up til 3 passengers.
The car is Tesla X 100D AWD model with a highest possible volume battery for up to 420 kilometres /260 milesper (real estimate) charging. It is the safest SUV ever. The car is equipped with A/C, warming of all seats, navigation, stereo system, adjustable suspension height, leather seats, premium interior, Falcon Wing doors, the biggest panoramic windshield.
Driving by Tesla X is environment friendly, the car leaves no exhaust gases in the Norwegian nature.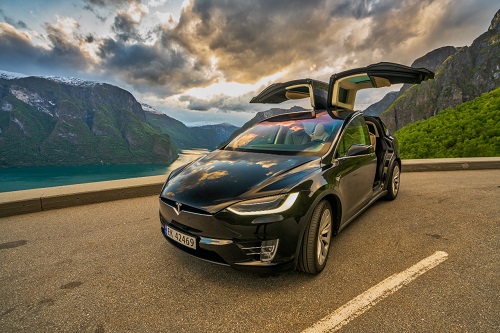 Mercedes V-class
Luxury minivan is comfortable for up til 7 passengers. The spacious interior is perfect for families and smaller groups. Both our vehicles are extra large models allowing to store up to 7 suitcases and 7 small bags.
We have one 2017 model and one 2019 model, both VIP class vehicles, Avantgarde, AMG styled. They are equipped, among others, by A/C, stereo system, navigation, leather seats, tinted rear windows.